Free Dental Care Event in Calgary at Southcentre Dental!
Presented by:
Southcentre Dental
Category:
Other Event
Price:
$0
Date:
October 27, 2018 – October 27, 2018
Time:
9:00 AM – 4:00 PM
Address:
14540 Parkland Blvd SE Calgary, AB T2J 7H5, Calgary, Alberta T2J 7H5
Website:
https://southcentredental.ca/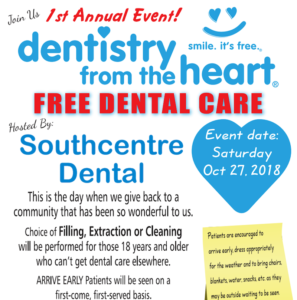 Have you been planning to visit a dentist, but changed your mind worrying about the fee? Southcentre Dental heartily invites you to its annual FREE dental care event in Calgary on 27th October! We are proud and happy to announce completely free dental treatments ranging from cleanings, teeth extractions, fillings, and more under the guidance of our expert dental team. So why wait and spend dollars when you can get the best dental care for free! Book your appointment today for our free dental service.
Social Media Links
Get Directions
More events at Calgary Alberta South Stake
No Entries Found
Other Events